Start a Referral
chevron_right
The pioneering care provided by Keck Medicine of USC physicians remains on the forefront of leading-edge medicine. Learn how our capabilities can help your toughest cases.
Cancer
Video
Nonalcoholic Fatty Liver Disease (NAFLD)
Medical providers are seeing patients who have an increasingly common condition: nonalcoholic fatty liver disease (NAFLD). Primary care doctors are concerned, as it may lead to serious consequences such as cirrhosis and liver cancer.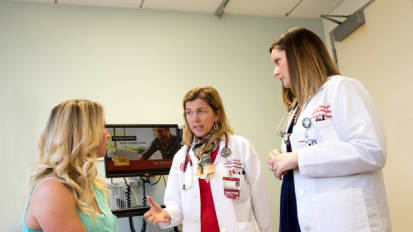 News
Prone positioning for breast radiation treatment
The USC Norris Comprehensive Cancer Center at Keck Medicine of USC is offering prone-position radiation treatment for patients with early stage breast cancer through Jason Ye, MD, assistant professor of clinical radiation oncology at the ...
News
Lung cancer program puts the emphasis on personal
Within the multidisciplinary Lung Cancer Program at USC Norris Comprehensive Cancer Center at Keck Medicine of USC, the term "personalized medicine" takes on several layers of meaning—starting with the way each patient is evaluated as ...
Orthopaedic surgery
News
Treatment options for orthopaedic trauma
The Department of Orthopaedic Surgery has both trauma specialists and microsurgeons who have the ability to manage very complex cases. The management of these patients typically requires multidisciplinary care that benefits from coordination ...
News
Revision total shoulder arthroplasty
Orthopaedic surgeons at Keck Medicine of USC are specialists in revision total shoulder arthroplasty, a procedure that is relatively uncommon compared with other revision arthroplasties. Most often, patients require a revision shoulder ...
News
Osteonecrosis: clinical care and translational research
Osteonecrosis can occur in any bone but it most often affects the femoral head.4 Osteonecrosis of the femoral head is often misdiagnosed as a strained groin and patients may not receive a timely diagnosis or therapy for osteonecrosis.
SPINE
News
Research at the USC Spine Center
The USC Spine Center houses a robust research program that combines leading clinical, translational and basic science research on all aspects of spine care, including disc degeneration, spinal fusion, spinal tumors and spinal cord injury.
News
Treatment of adult scoliosis and deformity
Adults with scoliosis and other spinal deformities can benefit from the multidisciplinary approach offered at the USC Spine Center. Adults of any age can be treated for their scoliosis or back deformity. Patients receive coordinated care ...
News
Comprehensive diagnosis and treatment of spine tumors
The USC Spine Center treats all patients with primary and metastatic spine tumors. Our physicians have a strong interest in treating patients with spine tumors as early as possible in the course of the disease. Patients can be successfully ...